It's pretty simple: If you don't have good speakers, you don't have a good sound system. Sorry to be so blunt, but speakers — more than any other component in the audio chain — play a crucial role in shaping the tonal character of the music they're reproducing. If a favorite album sounds shrill or lifeless, you can usually blame the speakers (assuming, of course, you're not playing crappy, low bit-rate MP3 files). Same for movie soundtracks. When an explosion sounds like a firecracker and dialogue sounds more like its coming from a '60s-era transistor radio than a real voice, you know you have a problem. These examples are extreme for sure, but the point is music and soundtracks played over good speakers can sound alarmingly real, causing you to flinch during a raucous chase scene and eliciting goosebumps during an intimate musical recording (Linda Ronstadt singing "Adios" does it for me every time). The good news is you can enjoy an immediate upgrade in performance by simply swapping out the offending squawkers. To help you along that path, I've highlighted 17 of the best speaker systems our reviewers have auditioned in 2020 — all Sound & Vision Top Picks. Ranging in price from $300 to $20,000, and running the gamut from home theater speaker ensembles to soundbars and subwoofers, we're pretty sure one or more of these excellent systems will speak to you.
Home Theater Speaker Systems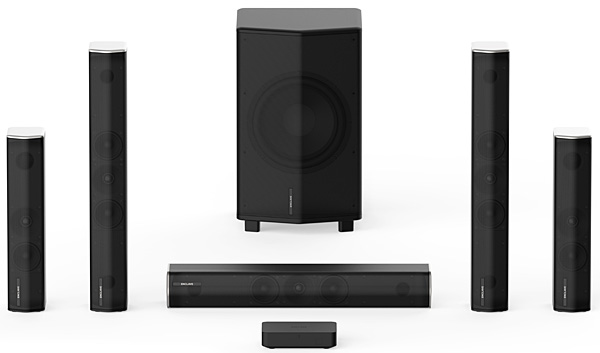 Enclave Audio CineHome PRO Wireless Home Theater System: $1,600
Enclave's CineHome PRO system brings full-tilt surround sound to TV and movie watchers who want more than a soundbar. But here's the kicker: it does so wirelessly, meaning you don't need to snake a half dozen cables around the room (though you do have to run power to each speaker). The system is easy to set up and employs the proven WiSA protocol to ensure reliable wireless performance; it's also the first wireless system certified to meet audio standards established by THX. Reviewer Rob Sabin was impressed with the system's ability to play loud without breaking a sweat while creating a coherent sound bubble: "The musical La La Land was a delight on the Enclave, with convincing surround, well-delineated voices from the ensemble, natural timbre for the instruments, and super-effective dynamics."
AT A GLANCE

Plus

Easy, app-driven automatic setup
Good audio quality via the hi-res WiSA platform
Simple and intuitive control app

Minus

Lack of A/V switching may be an issue for some systems
No remote control or learning feature
No decoding or full-resolution transmission of DTS-HD or Dolby TrueHD bitstreams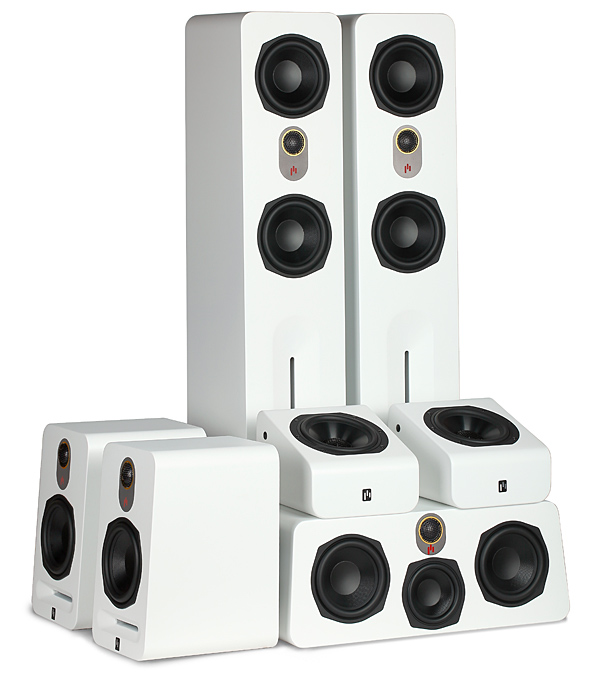 Aperion Audio Novus 5.0.2 Speaker System: $2,995 (as tested)
The stylish Novus 5.0.2 speaker setup shines with music and, when combined with a good subwoofer (not included in our test), will immerse you with the visceral thrills that define today's most sonically ambitious movie soundtracks — especially when those soundtracks are mixed for Dolby Atmos or DTS:X. Reviewer Tom Norton described the sense of spaciousness conveyed on Blade Runner 2049 as first-class: "Surround activity was spot-on, and the music, with its strong electronic element, blew me away… and dialogue was always natural, with a total lack of bloat or distracting fizzy sibilance." Taking the experience to the next level, Norton marveled at the system's ability to create a sense of height when the small elevation modules were placed atop the main tower speakers. "Atmos channels were often startlingly effective," is the way he put it.
AT A GLANCE

Plus

Natural dialogue
Detailed without sounding aggressive
Great value

Minus

Limited deep bass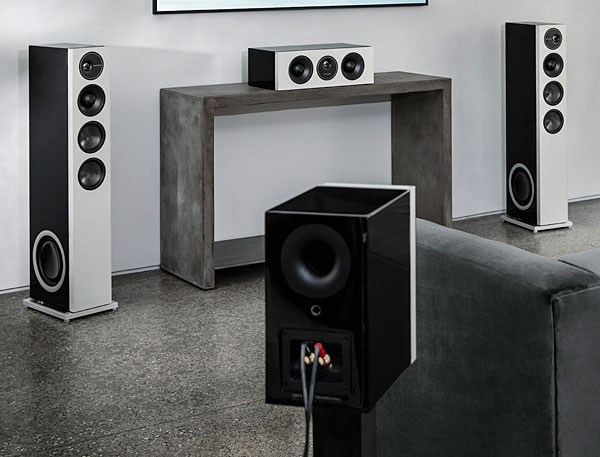 Definitive Technology Demand D15 Speaker System: $5,056 (as tested)
With its stylish new Demand Series, DefTech offers a simplified path to home theater with a five-speaker setup, skipping the standalone subwoofer and relying instead on the bass prowess of the D15 towers. Listening first to the towers on their own, reviewer Dan Kumin described what he heard as "focused, accurate, and uncolored, with a broad, spacious sense of width and depth." When the DC5 center-channel was pressed into action with a pair of rearward D9 bookshelf speakers, the system reached cinema-like levels without strain and with visceral impact during the climactic train-derailment sequence in the 2018 action/thriller The Commuter. While adding a capable standalone sub will bring the bottom octave to bear, Kumin raises a question: Can you live without the added measure of floor-flexing bass in exchange for a simpler setup? "I think I could."
AT A GLANCE

Plus

Highly accurate sound
Impressive stereo imaging
Solid center-channel reproduction
Well-controlled and moderately extended low end

Minus

Towers sensitive to placement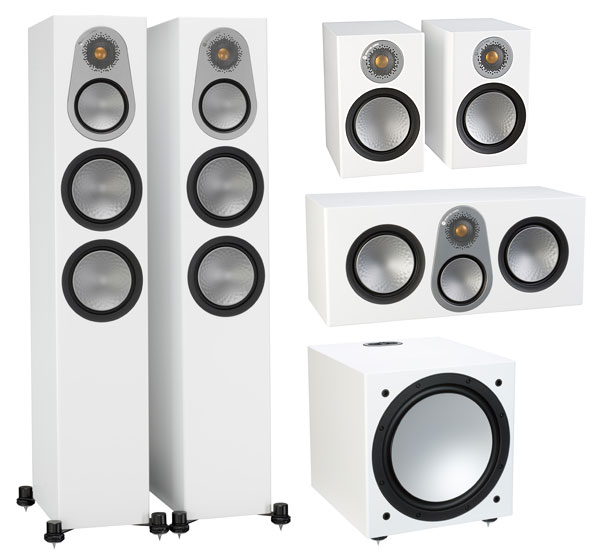 Monitor Audio Silver 300 Speaker System: $5,975 (as tested)
U.K's Monitor Audio did something audiophiles love when it revamped its popular Silver Series of speakers: Improved sound quality without jacking up the price. Reviewer and longtime audiophile Al Griffin was captivated with the Silver 300 system's build quality and ability to deliver clean, detailed sound with music and movie soundtracks: "I found myself won over by its crisp, dynamic sound…and was particularly impressed with the C350 center speaker, which allows for seamless sound across the front channels." The Silver W-12 subwoofer also drew accolades for bolstering bass from the main towers with music and "adding oomph to action movies."
AT A GLANCE

Plus

Crisp, detailed sound
High-performance center speaker
Subwoofer with room correction

Minus

Subwoofer pricey compared with competition